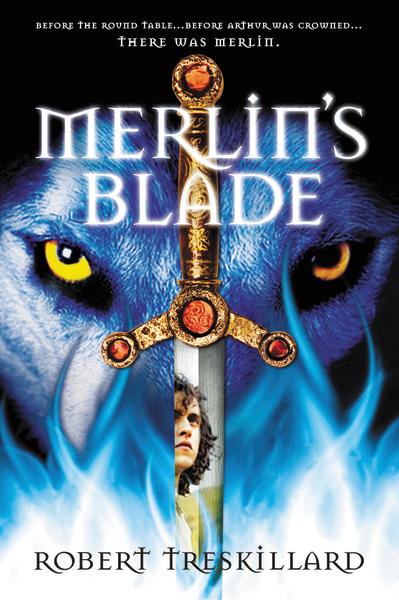 Merlin's Blade, The Merlin Spiral, Robert Treskillard, Zondervan, Fantasy, April 16, 2013, 432 pages.
Synopsis:
Merlin's Greatest Weakness Could Become His Greatest Strength
When a meteorite crashes near a small village in fifth-century Britain, it brings with it a mysterious black stone that bewitches anyone who comes in contact with its glow---a power the druids hope to use to destroy King Uthur's kingdom, as well as the new Christian faith. The only person who seems immune is a young, shy, half-blind swordsmith's son named Merlin.
As his family, village, and even the young Arthur, are placed in danger, Merlin must face his fears and his blindness to take hold of the role God ordained for him. But when he is surrounded by adversaries, armed only by a sword he helped forge, how will he save the girl he cherishes and rid Britain of this deadly evil ... without losing his life?
My thoughts:
Upon hearing of this book before publication, I was hoping it wouldn't be a simple retelling of the classic Arthurian tale. I am happy to report that it is not. Instead, Treskillard brings the perspective a few steps back, beginning with the humble Merlin and his story. The language differences don't just make an appearance to keep things in perspective, they occur often enough to make the reader uncomfortable enough to figure out what they mean. Also, he steeps the events that happen (not just the atmosphere) in the time period. Families, leadership, and professions all reflect the age, but at the same time deftly shape the course of the story.
Considering the people, Treskillard often found ways of skirting the recent character norms and cliched views of the medieval setting.
::SPOILER::
The only weak point I found was Vortipor's engagement to Natalenya, which didn't amount to much.
::END SPOILER::
Merlin was crafted well, with carefully-chosen words, as were Owain, Garth, Uther, and Morganthu.
Merlin's Blade
doesn't drag at all. The pace is set very well, and a great deal happens. It's lengthy, honest, and a pleasure to read. As for the story elements that make up the Arthurian legend, Treskillard has included them soundly in the lore of this series. Many items/characters don't show up immediately, or are only hinted at, but I have little doubt they will come further to light soon.
*This book was provided free by the publisher in conjunction with The CSFF Blog Tour. I was not required to write a positive review, and the opinions expressed are my own.*
My rating:
5 stars
Buy Merlin's Blade!
Check out more Fantasy!
Beckie Burnham
Keanan Brand
Jeff Chapman
Laure Covert
Pauline Creeden
Emma or Audrey Engel
April Erwin
Victor Gentile
Ryan Heart
Timothy Hicks
Jason Joyner
Carol Keen
Krystine Kercher
Shannon McDermott
Meagan @ Blooming with Books
Rebecca LuElla Miller
Joan Nienhuis
Nathan Reimer
Chawna Schroeder
Kathleen Smith
Jojo Sutis
Robert Treskillard
Steve Trower
Phyllis Wheeler
Shane Werlinger
Nicole White