The Telling, Mike Duran, Realms, Speculative Fiction/Suspense, May 15, 2012, 304 pages.
Synopsis:
A prophet never loses his calling, only his way.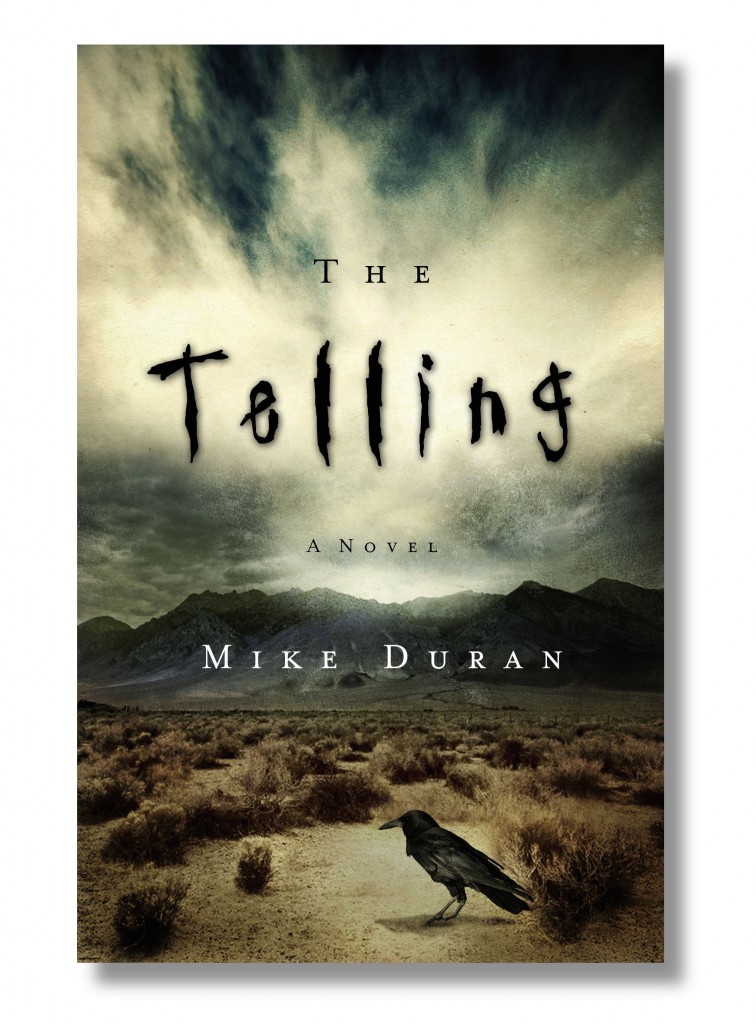 Disfigured with a hideous scar from his stepmother, Zeph Walker lives his life in seclusion, cloistering himself in a ramshackle bookstore on the outskirts of town. But Zeph is also blessed with a gift—an uncanny ability to foresee the future,to know peoples' deepest sins and secrets. He calls it the Telling, but he has abandoned this gift to a life of solitude, unbelief, and despair—until two detectives escort him to the county morgue where he finds his own body lying on the gurney.
On the northern fringes of Death Valley, the city of Endurance is home to llama ranches, abandoned mines, roadside attractions...and the mythical ninth gate of hell.

Now, forced to investigate his own murder, Zeph discovers something even more insidious behind the urban legends and small-town eccentricities. Early miners unearthed a megalith—a sacred site where spiritual and physical forces converge and where an ancient subterranean presence broods. And only Zeph can stop it.


But the scar on Zeph's face is nothing compared to the wound on his soul. For not only has he abandoned his gift and renounced heaven, but it was his own silence that spawned the evil. Can he overcome his own despair in time to seal the ninth gate of hell?
His words unlocked something deadly,
And now the silence is killing them.
My thoughts: This is one of the best suspense books I've read in a long while. It is quite unique how Mr. Duran forms the story, driven by a curious merging of character and plot concept. The idea behind the story revolves around Zeph, the Prophet, yet uses his journey to push everything forward.
Something I enjoy about Duran's writing is that he takes risks. Taking advantage of the speculative genre, he had previously ventured into the area of healing power, and now he gives us a volume concerning a prophet. With many risk-free books out there, it's good to see a different and better approach.
A neat parallel in the story is the careful observation of people suspected of not being their own selves. Throughout the book, Zeph is running from who he was as a child, not looking back, not accepting his God-given station. He is fixated on the present, hoping to remain unnoticed, until he is sought out by his calling.
The suspense portion of The Telling truly had me on edge. I never knew what the exact outcome would be, and that made it very enjoyable. **SPOILER ALERT** The fact that Zeph could not do anything on his own was surprising, but very accurate. He needed help, first from God, and second from Little Weaver. This accurately shows our human nature and the untold grace of our Lord in pulling us up over mountains. **END SPOILER**
In conclusion, Duran's risky speculative writing has earned credit in my book, and his intense plot and character building are great reasons to look out for future releases!

*This book was provided free by the publisher, in conjunction with the CSFF Blog Tour. I was not required to write a positive review, and the opinions expressed are my own.*
My rating: 5 stars