Doctor Who series 5, Murray Gold, The BBC National Orchestra of Wales, Soundtrack, Silva America, February 8, 2011, 2 discs, 63 tracks.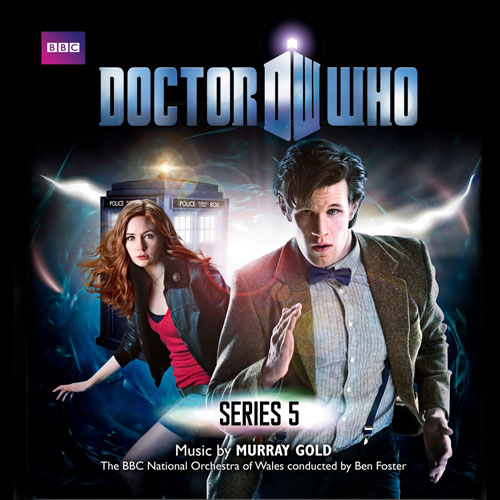 Track Listing
Disc One
Doctor Who XI
Down To Earth
Little Amy
Fish Custard
Can I Come With You?
Little Amy: The Apple
The Sun's Gone Wibbly
Zero
I Am The Doctor
The Mad Man With A Box
Amy In The TARDIS
The Beast Below
Amy's Theme
A Lonely Decision
A Tyrannical Menace
Victor Of The Daleks
Battle In The Sky
River's Path
The Time Of Angels
I Offer You My Daughter
Chicken Casanova
Signora Rosanna Calvierri
Cab For Amy Pond
The Vampires Of Venice
Wedded Bliss
This Is The Dream
Rio de Cwmtaff
The Silurians

Disc Two
Paint
Vincent
Hidden Treasures
A Troubled Man
With Love, Vincent
Adrift in the TARDIS
Friends and Neighbors
Doctor Gastronomy
You Must Like It Here
A Useful Striker
A Painful Exchange
Kiss The Girl
Thank You Craig
River Runs Through It
Away On Horseback
Beneath Stonehenge
Who Else Is Coming
Amy and Rory
The Pandorica
Words Win Wars
The Life and Death of Amy Pond
Amy's Starless Life
Into The Museum
This Is Where It Gets Complicated
Roman Paradox
The Patient Centurion
The Same Sonic
Honey I'm Home
The Perfect Prison
A River of Tears
The Sad Man With A Box
You and Me, Amy
The Big Day
I Remember You
Onwards!
My thoughts:
Murray Gold doesn't skimp when it comes to the enrapturing phenomena that is instrumental music. With over 60 tracks on two discs, Gold gives a new adventure in each piece, which is very rare these days. From fresh wonder to bold peril, The Doctor can always be found lingering somewhere in the music, being the legend that he is. Yet, throughout the whole soundtrack, Gold incorporates the essence of Matt Smith's unique performance: ingenious, comical, witty, and self-contradicting. His companion, however, provides a fresh contrast to him in several tracks ("Little Amy: The Apple," "Amy in the TARDIS," "Amy and Rory," "The Life and Death of Amy Pond," "Amy's Starless Life," "You and Me, Amy"). All in all, Gold knows how to make the music aid the show, and to be interactive when listening separately. One simply can't help but think of their respective scenes. I am quite appreciative of Murray Gold for such a moving compilation.
My rating:
5 stars
Buy Doctor Who Series 5 soundtrack!