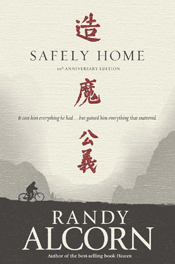 Safely Home (Tenth Anniversary Edition), Randy Alcorn, Tyndale House, Fiction, July 19, 2011, 434 pages.
Syno
psis:
A soul-stirring story of two college friends who reconnect after 20 years. One is living life apart from God in comfortable corporate America, while the other is living for Christ under intense persecution in China. This challenging book will convict the heart of readers to live in the light of eternity.
My thoughts: To me, this book wasn't as eye-opening, since I've read memoirs about persecuted Chinese Christians, but because I did so, I can confirm this book is very accurate. To others, however, it may be very eye-opening, and I hope you read it, if you have not already. This is a book any and every Christian ought to read. Even non-believers may find it breaking down their arguments and feeling pity. It is a story of two worlds. America and China, and also Heaven and Earth. (I am not indicating similarities between them) Because of this book, my heart goes out to China.
My rating: 5 stars
This book was provided free by the publisher. I was not required to write a positive review, and the opinions expressed are my own.
Buy Safely Home
Check out more Christian Fiction
Upcoming reviews:
Mugabe and the White African by Ben Freeth

Taken by Brock Eastman

Why God Won't Go Away by Alister McGrath