Odd Little Miracles, Fred Warren, Splashdown Darkwater, Science Fiction/Fantasy, Anthology, July 1, 2011, 182 pages.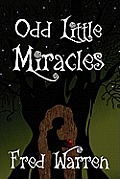 Synopsis:
In The Muse, Fred Warren took us to a world where imagination reigned supreme, and inspiration was a matter of life and death. Now, follow him through the twists and turns of twenty-two bizarre tales, where odd is commonplace, little things make all the difference, and miracles are everywhere, if you know where to look: An office temp thinks he has the world's worst job, until he spends a day sitting
in for the Devil. Stolen fruit provides sweet justice in a city ruled by magic. In a world where two minds can share the same body, running afoul of the law has horrifying consequences. A young woman discovers something growing in the fields outside her village--something wonderful...and terrible. Do the impossible. Change the future. Save the world. All you need is one odd little miracle.
My thoughts:
Mr. Warren does well with short stories. Each time, it started a different way. In no way did it feel like any one story was like another, besides the "miracles" theme. Some ended well, some bad, but all left you wanting more. They explored the remotely possible, and perfectly impossible as well. I really enjoyed it!
My rating:
5 stars
Please rate my review on amazon here.
Buy Odd Little Miracles!
Check out Mr. Warren's website!
Upcoming reviews:
Overcomer by Kristen Wisen
Why God Won't Go Away by Alister McGrath
Safely Home by Randy Alcorn