Warrior, Dragons of Starlight, Bryan Davis, Zondervan, Fantasy, 2011, 421 pages.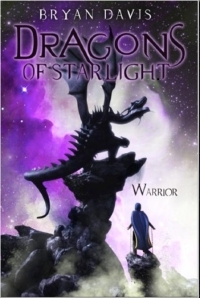 Synopsis:
The dragon prince has hatched in book two of the Dragons of Starlight series, the stakes are raised when the foretold prince is crowned. While Koren and Jason race to the Northlands of Starlight to find the one person who can help them free the human slaves, Elyssa and Wallace strive to convince the captives that freedom is possible. Soon, all four discover that the secrets of Starlight extend much further than they had imagined. Meanwhile, Randall and Tybalt have returned to Major Four and struggle against the dragon Magnar, who has arrived to manipulate the governor. No one knows how the prophecy will be fulfilled, but one thing is clear: more than ever, the survival of the dragons depends on humankind, and they will do anything to prevent the slaves from escaping.
My thoughts:
This book was a good one. It had Davis's iconic element of a complex plot, but was very understandable. I did feel, though, that not much was accomplished by the protagonists in regard to the series. Granted, they went many places and did many things, but there were few shocking, secret-revealing moments. Perhaps Davis is merely setting up plot for his next book, Diviner? In any case, the writing was excellent, and the characters were very human, in the case of the humans, that is. The dragons kept perplexing me, but then again, they are not meant to reason as humans do. Davis has done a wonderful job in creating a species not limited to human personality. I recommend this book, and I look forward to the next!
*This book was provided free by Zondervan Publishing. I was not required to write a positive review, and the opinions expressed are my own.*
Rating:
5 stars
Upcoming reviews
The Resurrection by Mike Duran
Decision Points by George W. Bush
Buy Warrior!
Check out more Christian fantasy!
Check out Bryan Davis' website!