Dauntless Homecoming, Pete Koziar, self-published, Science Fiction/Fantasy, 2010, 478 pages.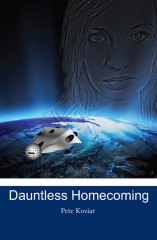 Synopsis:
Set hundreds of years in the future, a starship, The Dauntless, from mankind's first interstellar expedition, returns back to Earth. The planet they visited wasn't very interesting, just a lifeless ball of rock. Earth, on the other hand, had changed in ways they couldn't have imagined.
The world is now ruled by one king and a group of very powerful beings known as the Purnarkat. The crew from The Dauntless doesn't quite know how to react. The world they knew before they left hadn't been that different from our own - a bunch of independent nations that often didn't get along very well. In this new world they now find, the crew resents the rule imposed upon the world, questioning why the "normal" humans aren't in charge.
One of the crew, Jim, disappears soon after their landing, which serves to set them on edge, and make them suspicious that things aren't what they seem. The captain of the crew, Cliff, decides to take matters into his own hands, to liberate the world from the rule of the Purnarkat.
The rest of the crew reluctantly follow him, but all of them must deal with their own emotional and even spiritual baggage. Their quest to understand and fit into this new world takes all of their resources, and leads them in very surprising directions.
My thoughts:
It was rather enjoyable! From the moment it started, this adventure reveals an upgraded and better Earth, ruled by the King, who works all things out for the good of his subjects. The planet was inhabited by fantastical creatures and shepherded by the Purnarkat, the King's chosen people.
Several of the characters are taught lessons ranging from humility, respect, compassion, and submission. These lessons are very easily applied to the reader's life.
It struck me that the crew of the Dauntless came home to an Earth foreign to them. No place like they had lived in existed any longer. It made me glad the place I am going to is eternal, unchanging, and glorious.
My rating:
4 stars
This book was provided free by the author. I was not required to write a positive review, and the opinions expressed are my own.
Upcoming reviews:
Beyond the Dead Forest by Steve Groll
The Charlatan's Boy by Jonathan Rogers
Check out the author's
website!