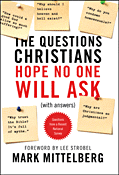 The Questions Christians Hope No One Will Ask, Mark Mittelberg, Nonfiction, Tyndale, 2010, 325 pages.
Synopsis:
Are there questions you
dread
being asked?

Maybe you dread asking them even of yourself. They're the ones on subjects such as hell, homosexuality, or suffering.
Through a national poll conducted by The Barna Group, Mark Mittelberg uncovered the questions Christians most fear being asked.
Complete with discussion questions, Mark's book will help you meet today's hot-button issues head on.
My thoughts:
This book provides thorough, general (and specific) answers to these top ten questions we fear to be asked. Each answer is backed up by Scripture, has a shortened version, tips for talking about each issue with unbelievers, and discussion questions. I will definitely use this as a reference if ever put in such a situation!
My rating:
4 stars
Buy The Questions Christians Hope No One Will Ask
Check out
more Christian Nonfiction
Upcoming reviews:
Heaven Is For Real by Todd Burpo
City of Tranquil Light by Bo Caldwell
I received this book free from Tyndale. I was not required to write a positive review. The opinions expressed are my own.