Here is Thomas Nelson's summary of Dr. David Jeremiah's nonfiction.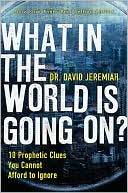 The Bible has plenty to say about end times. But until now, there has been no other book that—in straightforward prose that's easy to understand—gathers ten scriptural prophecies, lays out a chronological checklist, and offers a guideline for sorting it all out. In What in the World is Going On? Dr. David Jeremiah answers the hard questions, including these: How is prophecy playing out in modern Europe? Why does Israel matter? How are oil reserves and Islamic terrorism related? Does the United States play a role in prophecy? How should we live in the end times?

Events unfolding in today's world are certainly unsettling, but they need not be confusing or frightening. Now you can know the meaning behind what you see in the daily news—and understand what in the world is going on!
This book really helps you prepare for the coming fulfillments of Biblical prophecies. Granted, it is written with a pre-tribulation Rapture viewpoint. It is written clearly; any Christian who reads it will understand what is being said. He includes some visual aids in the book, but not too many to distract. He also is very prolific with scripture references and quotes, ranging from Tim LaHaye and Ernest Shackleton. It not only gives clear facts and leaves some mysteries, but also gives reassurance that God is in control.
My rating: 4 stars.
Disclosure of Material Connection: I received this book free from Thomas Nelson Publishers as part of their BookSneeze.com <
http://BookSneeze.com
> book review bloggers program. I was not required to write a positive review. The opinions I have expressed are my own. I am disclosing this in accordance with the Federal Trade Commission's 16 CFR, Part 255
Upcoming reviews
The Superlative Stream by Kerry Nietz
Vanish by Tim Pawlik