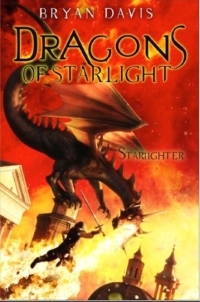 Starlighter, a fantasy title written by Bryan Davis and published by Zondervan, is an exceptional read. Jason Masters, a boy on the planet Major Four, has two missing brothers. These brothers had left to investigate the disappearance of people on Major Four, and disappeared themselves. The likely suspects: dragons. Old stories told of dragons who came and enslaved people and took them back to their planet, Starlight. Jason himself decides to hunt for the passage to this planet. Meanwhile, Koren, a slave on Starlight, wills herself to believe these stories of a human planet. Koren, also a Starlighter, becomes involved with a dangerously important black egg. During this involvement, she discovers a peculiar ability of hers to mesmerize dragons with her stories, by bringing them to life. Both Koren and Jason must utilize their plans to evacuate the slaves of Starlight back to Major Four.
The characters in Starlighter seem wrought out of true emotion, and contain great depth. Jason mourns for his brothers and other unfortunates. Koren feels great responsibility for Natalla when she attempts to escape her slave life. Arxad sees the slaves as the humans view themselves.
Bryan Davis employs a greatly tempered use of writing in this fantasy. He takes a unique plot and convinces us that this fiction story could really happen, because of our familiarity given by the writing language used. He takes many plot details that could become extensively confusing, as sometimes was the case in his Echoes From The Edge trilogy, and uses them not to confound, but to intrigue and entice the reader.
Themes present in this fantasy title offer us some insight into our Christian lives. Sacrifice is very frequent in our world, and we must face it with faith that God is in control. We must have faith that what is best for us is what he is giving us.
Overall, Starlighter is a one-of-a-kind fantasy book with a decent and enticing plot. I give this book 5 stars for Bryan's successful mixing of fiction and Biblical truth.